Tandem Paragliding Oludeniz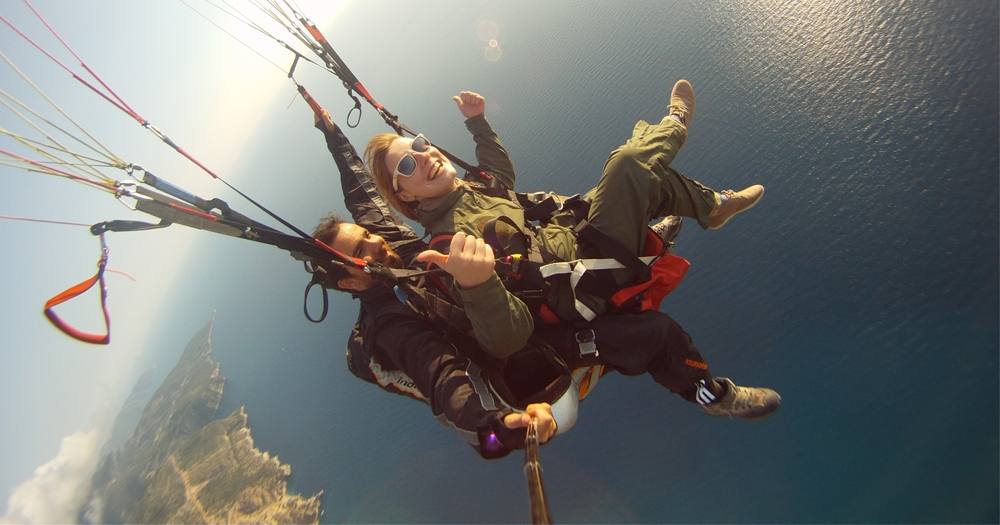 Tandem Paragliding means that a paraglider can fly two people, the pilot and the passenger at the same time. We are located in Fethiye Ölüdeniz. Our pilots are ready to give you at Babadag mountain with the most professional flight service possible.
The only thing you have to bring to accomplish this activity is a pair of closed shoes. Or don't worry. We give it to you.
No experience necessary
Age +4
Max 100 kg.
Should not have heart and circulatory problems
Let's explain how our flight tour in Fethiye Ölüdeniz is taking place.
We get you from your hotel for paragliding. We get into our Babadag transfer vehicle from our office and reach the summit with a journey that lasts about 30 minutes. On the way, we are pleasantly chatting and answer your questions in order to calm your excitement a little. Our team captain pilot is piloting according to the weight of the passengers.
After reaching the summit, we choose the most suitable takeoff area according to the wind conditions. There are 3 take-off areas. 1800 meters, 1800 meters and 1960 meters. Your pilot gets you up and he gives you a short briefing after getting the gear and wants you to do a good run. After the parachute is connected and the last controls are done, we fly towards a breathtaking view. The flight takes about half an hour. If you like acrobatics, the flight time can drop to 20 minutes. We make a soft landing with a few steps in the final.
We watch your aerial photographs and videos taken together while you drink cold.
After the flight, you can go with our service to your hotel or you can continue to spend a good time on the beach in Oludeniz.