Paragliding Beginner Course
Paragliding Beginner Course
This course is the first stage of paragliding. Student pilot learns how to control the wing by doing groundwork and experiences solo flight. 8 of 10 flights in total are carried out under the supervision of his teacher and under radio control.
Basic Pilot Training – Beginner
Basic Pilot (P1, P2 or Appi Pilot) training, which is an Appi and THK (Turkish Aeronautical Association) paragliding training, is the first step to start paragliding for completely novice ones. (International certification and optional THK certification). You can be sure that you will make long flights after 10 days of training.
Due to our location, you will have good weather conditions and the opportunity to catch the maximum flight time in Babadağ, the high mountain of Fethiye Ölüdeniz! With an average flight availability of 300 days a year, we guarantee you to complete the initial training in less than 2 weeks!
What Will I Learn?
TP training is almost entirely practice-based, with an incredibly fun nature and very little theory training. In the first few days, ground trainings are given and basic theoretical training is given to learn how to get up safely. With these trainings, it is aimed that you start solo flights as soon as possible. As a result, 4. By starting short flights in a very short time like a day, you start to gain air experience and simple skills.
Next step: Getting your certificate
Although the Basic Pilot training certificate is not enough to fly completely unsupervised, it is the first and most important step in this direction. In order to gain self-flying competence with paragliding, the pilot must insure and complete the 5-day Club Pilot Training.
If you have time, you can start paragliding in the shortest and easiest way by completing the Basic Pilot and Club Pilot Training within two weeks and gain the necessary competence to fly unattended.
Basic Pilot Training
Goal : Getting to the level of solo flight at beginner level
Time : 10 days (It may take less depending on weather conditions.)
Price : Individual 9000 TL, group 8000 TL.
Includes: 10-day course fee, material.
Excluding accommodation: You have to take care of it yourself this year We help.
Extra: THK certificate is also 2000 TL.
All students must have their own accident insurance.
Our Basic Pilot trainings continue in the first week of the winter season (from the beginning of November to the end of April).
What is our difference?
We offer the fastest, safest and quality training for those who want to get started. Because we know that our students have little time to learn and fly. Therefore, we developed a training system as fast as possible with all our facilities and equipment:
Paragliding: For ground studies, we make sure that students do the necessary practices for light and strong winds in different regions.
Tandem flights: You can take tandem flights with our instructor when needed and learn how to make spiral turns, long-distance flights and the like.
We offer flight opportunities for a large number of pilots around in our own area. This area (Ölüdeniz, Köyceğiz, Karain, Pamukkale) offers an ideal flight and dynamic lift for beginners.
You can benefit from our instructors' local knowledge and experience. All our employees are experienced. We live here and have learned to fly in these mountains for 10 years. Most paragliding instructors and guides arrive here for a few weeks during the winter season and then return.
small groups
There is a maximum of 6 students per education. Thus, we spend more time with each other.
With modern media methods such as animation and videos, we enable you to understand our theory lessons more quickly and easily.
This training is a complete and unique course for beginners. It is the most important thing for us to progress and gain the necessary skills in this process from start to finish. On your first day, you will learn to control the ground, inflate the parachute, and walk on the ground by turning left and right, as if you were flying a big kite. As a result of the weather and your situation, you may be able to fly solo even on the first day. After you can control the paraglider, you will advance level by level in this area.
Some turning maneuvers, controlled take offs and altitude flights and point landings and more. As a separate alternative, studies do not have to take place on consecutive days, but all must be done within a year. Basic Pilot training, with a little theory and simple testing, will give you a qualification accepted by everyone before you become a Club Pilot and fly unattended.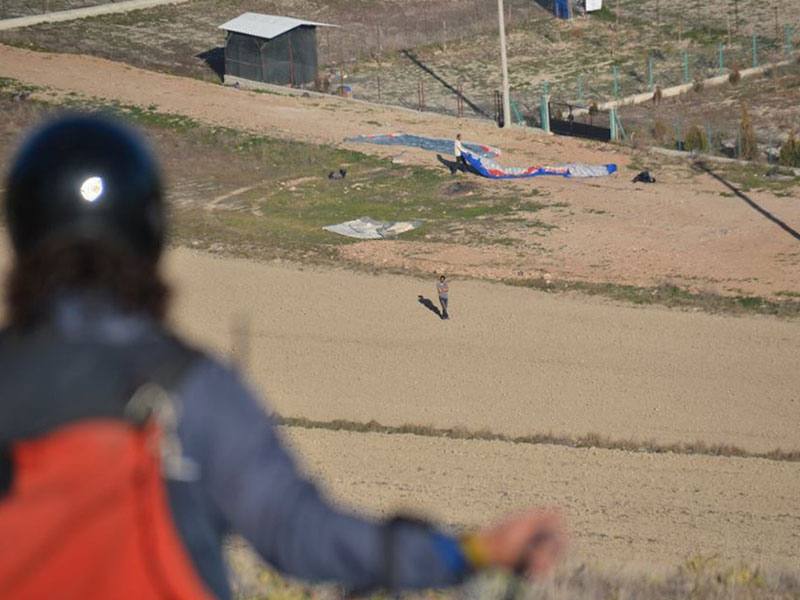 Sorry, we had to close our courses this year.